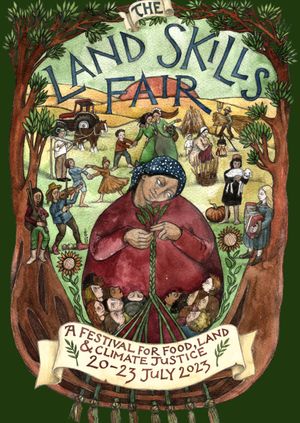 The Land Skills Fair 2023
20th - 23rd Jul 2023
Add to Calendar
Event Details
THE LAND SKILLS FAIR 2023
What is the Land Skills Fair?
The Land Skills Fair is Building the movement through a celebration of diversity, wisdom and skills in activism, farming, forestry, food & land.


The festival is a

multigenerational and multicultural skill and knowledge exchange that aims to provide a safe space for everyone to learn from each other and explore different land-based topics and practices.
The event is member-led, with the majority of the skills, workshops and talks requested or offered by members and supporters of The Landworkers Alliance, Land In Our Names, FLAME and other partner unions and organisations. ​
What to expect?
An awesome medley of practical workshops, skills shares, talks, activities, performance, live music and of course delicious local food and drink.


TICKETS
Sadly, due to the extreme increases in industry costs this year we have had to put our prices up. We have a selection of ticket options on offer, including ticket options for folks on a low income. We also have a large number of fully paid bursary tickets available on request.
The event is not for profit and uses funding from 30 Percy in order to keep ticket prices as low as possible. All income generated through sales goes directly into paying for the infrastructure, solar power, venue costs and entertainment of the event.
If you purchase a higher price ticket, we would like to thank you for helping to keep ticket prices down for low income attendees, as well as allowing us to offer fully paid bursary options to marginalised groups and those in need.
Member tickets:
To support the members and supporters of LWA, LION and FLAME we are offering a range of reduced ticket options, available on a first come first served basis.
Sign up here as an LWA supporter
​General tickets
We have tried to keep the costs as low as possible and offer payment plans to make payment easier. Purchase our early bird tickets for cheapest ticket options
If you are interested in becoming a member of LWA and would like to support our work throughout the year as well as here about other events and mobilisations. We are offering reduced ticket options to our members and supporters.
Sign up here as an LWA supporter
BPOC TICKETS
The LWA is partnering with Land In Our Names to organise the Land Skills Fair. As part of the work to build an accessible and diverse movement, we are offering reduced cost tickets to all attendees who are BPOC (black or people of colour). BPOC LWA Members are welcome to purchase either the Member tickets or BPOC tickets.
Bursary tickets:
We have a limited number of free bursary tickets available. If you would like to attend the event but are unable to pay, you can apply for a full bursary ticket by filling out this form
Locals only day tickets
If you are local and interested in coming for the day, we have a limited number of day tickets available here.
Youth and children's tickets:
All children under the age of 3 can come free and all children under the age of 15 will need to pay £25 per ticket.
If you are a young person (aged 16-25) and are interested in joining FLAME (the youth branch of LWA) there are discounted tickets available.
Vehicle passes:
Due to site requirements and to reduce our carbon footprint, the amount of vehicles allowed on site will be limited again this year. You will need to book a pass for your vehicle or arrange another way of getting to the event.
We will be providing spaces to lock bikes this year, as well as organising shuttle bus rides from Kemble Train station.
Parking and live-in vehicle passes are available on a first come first serve basis through the ticket page.